Hey everyone, just a reminder Arcanum Unbounded comes out in 15 days! Before we get on that particular hype train though I do want to let everyone know that three of the rulebooks for the Mistborn Adventure Game from Crafty Games are in a HumbleBudle. Specifically it's the core rulebook, the Alloy of Law supplement, and the Terris: Wrought of Copper supplement. This particular HumbleBundle has the theme of pen and paper rpg's based on popular science fiction and fantasy fiction, such as A Song of Ice and Fire and The Dresden Files.
Last week Tor.com posted the table of contents for the collection, which showed how the books was set up, and also revealed the name of the system First of the Sun (the setting of Sixth of the Dusk) is in. Today they posted a sneak preview of the system map and essay, written by Khriss, about the system. Go check out the Drominad system essay over on Tor.com and then join in on the conversation about it on the forums. The two art pieces, a symbol that seems to represent First of the Sun and the system map are both really well done.
The Tor/Forge Blog has also posted a preview from Arcanum Unbounded today in the form of the new illustration for The Emperor's Soul. Ben McSweeney really did a fantastic job with all of his illustrations for the book but this one is definitely my favorite. The Tor/Forge Blog post also contains a short interview with Ben so go and check that out!
In other news, a picture of an early prototype of the Reckoners board game was posted back in September on Twitter by CardboardEdison. For those who don't remember we reported back in August that the rights for a Reckoners-themed board game had been sold to Nauvoo Games. While I'm sure we are still very far any sort of release, it is nice to know that they are working on it and progress is being made.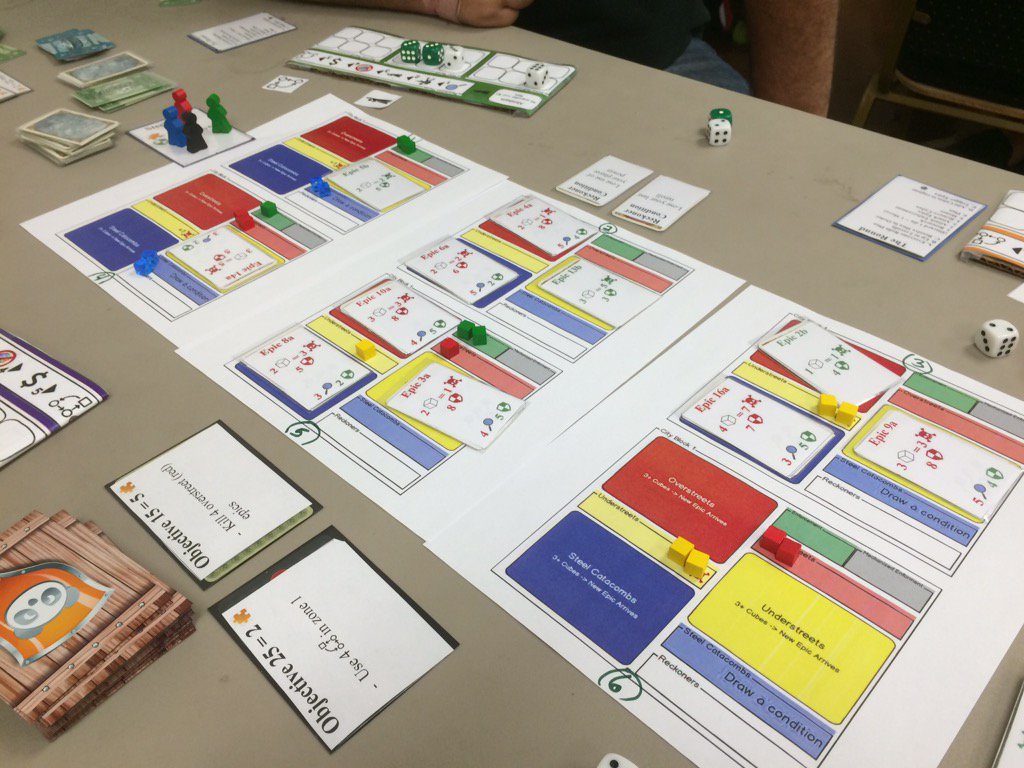 Now I'm sure a more experienced board game player would be better able to understand what sorts of mechanics we can see in this picture, but I think there are a few things that even a novice such as myself can deduce. The game board appears to be representing Newcago, and is broken up into a number of city blocks. Each block is further broken up into different areas, the "Overstreets", "Understreets", and "Steel Catacombs" all have a place where cards representing Epics can be set, as well a place for tokens (which appear to be tied to generating Epics to be placed in that area). There are also areas noted as "Reckoners", "Environment", and "Mechanized Environment" where more tokens can be placed.
As mentioned above there are cards that represent different Epics, currently they are just given generic designations (such as "Epic 16a") though. The cards have what appears to be the requirements to defeat the epic and/or the rewards for defeating them, it's not clear from the pictographs alone. There are also Objective cards that give a certain number of victory points by completing missions such as killing a number of Epics in a certain area or using a certain ability a given number of times. Near the top of the picture there are cards that appear to be labeled "Reckoner Condition", but unfortunately I cannot make out the text below that.
Dice are also involved in some way, but that's about as much as I can figure out.
---